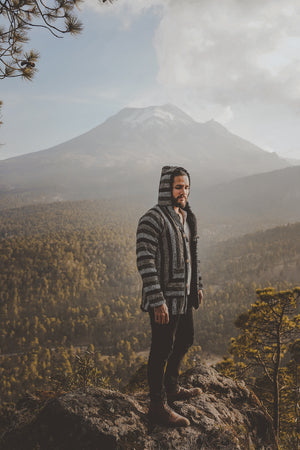 This sweater has a simple and comfortable design, it has the adequate colors for the outdoors. Whether it be at camp fires or at the house, this garment will fit any context you might find which you might find yourself.
An extremely cozy sweater with a white soft lining. Try this awesome piece of hand made artisanal design. You will most certainly stand out.
FEATURES.
Extra long sleeves and base like a cardigan
Hand crafted wooden buttons, from a local woodworker
Durable fabric making it less likely to tear
Breathable stitch 
50% Trapo / 50% Poly
Sourced from the small town of San Jose, knitted by artisans of Tlaxcala, this sweater is made, start to finish, in Mexico.
Not only will the Paco Blanket keep you warm but purchasing one will also keep someone else warm. For every purchase of a Paco Blanket, we give a sweater away to the homeless and needy in Tlaxcala, Mexico on your behalf!