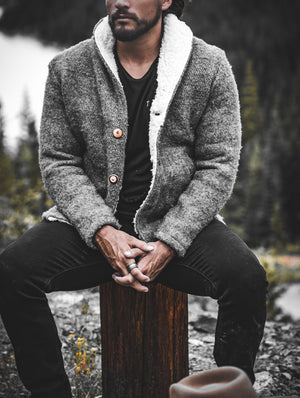 Our OG Saco stencil but with silver wool that is more rare than beige wool. One out of every five sheep will be gray and carry the special silver wool. 
Our handmade wool saco's are bar none. We created this beautiful saco from the cradle of Mexico, Tlaxcala. Due to the intricate knitting of the wool fabric, our saco is extremely warm and great defense from light rain. You can wear it with casual clothes, a suit, a dress, camping, hiking, dining... you name it. Our saco is the right fit for anything, anywhere.
All aspects of this garment are handmade. Each saco has hand crafted buttons from local woodworkers and is hand-sown because of the thickness of the wool. All of our wool is woven with a foot pedal loom that is over a century old. From one side you have the 100% wool coat woven by our artisan, string by string. On the inside we have acrylana, which is a delicate Wool cloth, but with an enforcement to the fabric that makes it extremely durable. This black colored lining of the saco has pre-Hispanic art inlaid with the intention of giving detail in the most subtle ways.